<< Back to Articles
Scions [09/10/04]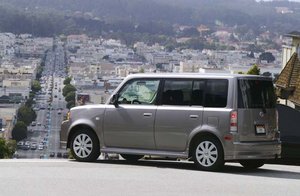 There's a great deal of skepticism regarding Scion, but if you actually stop to look at what Scion is offering you soon realize that not only is this new brand going to survive, it will be absolutely massive.

The reason for this is that it offers the Gen Y buyer everything they could hope for in a new car. The first two models, plucked from Toyota's fifty-vehicle-strong Japanese range, are cheap to buy and cheap to run. The basic spec xA (also know as Toyota ist in other markets) costs just $13,030 and comes complete with Europe's Yaris T-Sport suspension and engine, as well as Toyota's still strong reputation for reliability. The xB, a wheeled piece of IKEA furniture, is just $14,230, meaning the Pokémon generation can just about afford these cars, especially when you factor in Toyota's friendly financing.

The unique-to-America (and unique-to-Scion) tC is specifically for the street-racer crew and is the brand's flagship model for now - the car xA and xB buyers aspire to. Already it's resonating melodically with those who have 2Fast 2Furious in their DVD collection, if the waiting lists are any indication. It looks great, drives well and has a perky, 160-hp, 2.4-liter Camry engine to ensure its drivers have enough firepower not to embarrass themselves at the Traffic Light 500. And all this plus climate control, twin sunroofs, Pioneer CD player, cruise, and 17-inch alloys for $16,500, with monthly repayments of just over $300 a month.

Start your wallets

But that's only the beginning. The company has turned to the aftermarket industry to compile a range of options to personalize your new ride and this is where Scion breaks major new ground. Sure, there are the usual factory extras like spoilers, graphics, and colored pedals, but there's also unusual stuff that's never been offered before like illuminated cupholders, neon interior lighting, and funky key-fobs.

Not only that, but all three Scion models can be bought straight from the dealer with brand-name tuner parts already fitted to the car. In the case of the xA and xB there's a limited range of 15 to 19-inch Toyota Racing and Development (TRD) wheel and Pirelli P-Zero tire packages; you can check those out at scion.com. If you're even remotely car conscious you cannot buy an xA or an xB without alloy wheels. The standard rims are grim, but the good news is that what's in the official brochures is just the tip of the iceberg. You can actually choose pretty much any rim you want, from any major wheel manufacturer, up to 19 inches in diameter and Scion will fit it for you for about $2000 without voiding your warranty - heck, they'll even recalibrate the odometer and speedometer accordingly. This also allows cash-strapped youths to personalize their ride and include the cost of the upgrades in the car's financing, so instead of trying to make car payments and save for new wheels and tires (which might cause warranty issues later), Scion will do it all for you and cover you if something breaks.

Starting to see Scion's potential now?

Click here, drive there

Choosing from the palette of Scion-friendly parts can be a bewildering proposition, but at least there's now a private Scion Web site to help you chose which parts work best at www.scionlife.com. They also help Scion owners to find tuner parts from Japan, where the xA and xB have been on sale for a number of years already. Most Scion dealers also have a qualified installer who will take your install even further and as long as your audio system is a recognized brand and you don't go within 80 feet of it with a screwdriver yourself, that, too, is covered under warranty.

In the case of the xA and xB, a Pioneer six-CD changer with XM radio and a Bazooka subwoofer ($429) is a fun upgrade most buyers should opt for, turning the cars into booming mobile nightclubs (right down to the neon lights) without costing a lot or adding much weight. Bouncers and red ropes aren't on the options list, however. Despite being a budget car, a DVD player with LCD screens in the headrests is surprisingly common in customer xBs, indicating that Scions are not merely the reserve of the penniless youth but also the painfully trendy.

Both the xA and xB are "powered" by 102-hp, 1.5-liter engines, so a few more horsepower courtesy of an AEM induction kit ($335) and TRD sport muffler ($500) is vital. Avoid the dim-witted automatic at all costs and instead fit an OBX gear-shifter ($49) and TRD quick-shift kits

($157) to shorten throw on the manual 'box, at least creating the illusion of performance.

The xA and xB ride and handle pretty well to begin with, but the lowering kits (springs and dampers for around $500) and Hotchkiss strut-braces ($225) really help stiffen the car's chassis and cancel out the body-roll, particularly on the xB. Incidentally, I wouldn't recommend fitting rims bigger than 17 inches on cars with stiffened suspensions, however, because you'll be on first-name terms with the local Tire Rack dealer with a month.

The new tC takes Scion in a slightly different direction. Because the standard 17-inch wheels are so pretty, few buyers are choosing to upgrade the rims. Instead, they're sensibly ordering sports exhausts, suspension lowering kits with stiffer sway bars, signifying the concept has scored a bulls-eye with its target buyers. Toyota has already promised a bolt-on supercharger to take power beyond 200 hp, which is about as much as any front-wheel-drive car should have, but because tC is already in huge demand there's rumor of Stage 2 and Stage 3 Supercharger kits taking power beyond 300 hp. Torque steer, anyone?

There's also talk of an extensive range of new steering wheels, seats, graphics, and spoilers for the tC - everything you could want to build your dream racer, all ordered from a Scion dealership, installed by a Scion technician and covered by a Scion warranty. These will take a while to hit the market, though, because the car is so new and unique to the U.S.

With Scion, Toyota is bringing tuning to the masses, making it simple, affordable, and mainstream. It won't have much impact on the hardcore tuners (who aren't happy until their cars are tweaked to within an inch of disaster) but for those on the fringe who want to buy into the street-racer image without risking their investment, it's perfect. Just wait for the copycat rival brands crawl to out of the woodwork once Scion takes off.